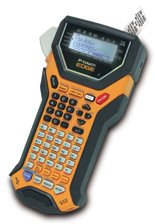 Rugged and designed for productivity, the PT-7600 comes with everything you need for labeling large jobs onsite and on demand. Rubber impact guards protect the PT-7600 from bumps and rough handling, and the rechargeable battery with the bright backlight display lets you work where you need to.


Brother smart technology makes the PT-7600 simple to use: just type and print a label or design custom label templates on a computer, download to the PT-7600 and then quickly recall and print labels. Link the label templates to a Microsoft Excel or Access database, transfer files to the PT-7600 and then print a label by simply searching on a key word and editing any field.

Uses: TZ tapes: 1/4", 3/8", 1/2", 3/4" & 1"

Includes: PT-7600 labeler, Custom carrying case, AC adapter, USB Cable, Rechargeable battery, one 3/8" black on white extra strength adhesive, Adjustable wrist/neck strap & Software.
$169.00